Fast IT Help Desk When You Need It—Every Time
Our IT Help Desk Status:

Always Open

 
Have you needed an IT Help Desk before and didn't get the help you wanted?
When something goes wrong with your computer operating system or even with a single computer, you need help fast. Bottom line. You don't want to wait. You don't want to have trouble communicating. And you don't want to lose money, business or production either.
IT Help Desk Support Availability for small businesses, medium-sized businesses, nonprofits, and corporations:
Certified U.S. technicians
Nationwide assistance
24/7/365 IT help
Phone support
Integrated live web chat
Secure web portal
Email correspondence
In-person service
Customer history, profiles, notes
In the world of computers and IT, problems happen. Computers crash, passwords are lost, email stops working… the list goes on. And unfortunately, these problems typically occur at the worst times. Don't they? Without proper technical support in place, these unforeseen and unexpected issues can bring your business to an abrupt—and potentially damaging—halt.
With the Trinity Solutions US-based IT Help Desk Team on board, you can enjoy peace of mind every day. Our 150+ certified American technicians will get to the root cause of your IT issue. And we can quickly and efficiently resolve even your most complex technical problems—and get you back up and running with minimal downtime.
Our IT Help Desk supports the following systems and incidents.
Microsoft and Apple desktop operating systems
Microsoft Office and leading third-party applications
Email applications and web browsers
Thin clients and virtual desktop infrastructure (VDI)
Hardware and network troubleshooting
Printer installation and support
Mobile phones and tablets
User administration
Desktop performance problems
Virus and malware infections
Our Focus Is on Your Success
We pride ourselves on top-quality IT incident management. And we are constantly pursuing more certifications to be ready for whatever you may be using in your office. It's not enough to know the basics. We want to be ready for those questions and situations that others couldn't handle. That's what sets Trinity Solutions apart from other IT providers. We make it our business to know YOUR business—and we've invested in your success.
Here is just a SAMPLE of our  IT Help Desk certifications: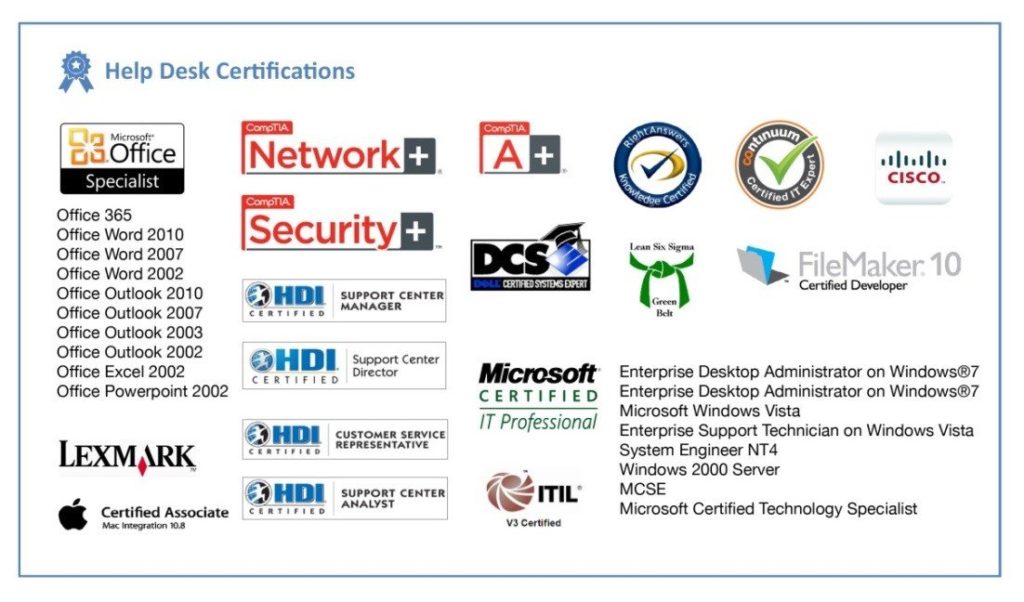 Your Dedicated IT Help Desk
We don't use the term dedicated lightly. Every one of our clients gets their own dedicated IT Help Desk phone line. That means you don't have to wait in a long queue to receive immediate, one-on-one attention. And you will NEVER have to speak to someone from India or any other foreign country regarding any computer or IT issues you face. That's our solid promise to you.
Our IT Help Desk offers nationwide assistance via phone, internet live chat, remote access, email correspondence or in person. Our certified technicians are located in the United States, providing continuous service 24 hours a day, 7 days a week. They will have access to all previous work done for your company, including your customer history, profile, and any service or IT Help Desk notes. So, if you've experienced a similar problem before, we'll have the online records to solve your issue faster.
The Power of Knowledge: Intuitive IT Help Desk
Not every support issue can be called a catastrophe… until it prevents you from being able to do your job. We're here to help you stay ahead of the curve, so you can focus on growing your business. So, we've adopted a proactive IT Help Desk approach to nationwide network monitoring and IT maintenance. That means we're monitoring your systems, even when you're not.
Our IT Help Desk is a seamless extension of our remote monitoring platform. When you call to report an issue, there's a good chance we're already aware of the problem you're experiencing. And we're probably already actively working to resolve it.
YES! Your IT Help Desk: Nights, Weekends, and Holidays
We know that your business may not run on a traditional 8:00am–5:00pm, Monday–Friday work week. And neither do we! The Trinity Solutions IT Help Desk, is immediately available to you 24/7/365—that means nights, weekends, and on holidays—nationwide.
When you have a problem, we are here to fix it fast. We can answer any questions by phone. If that doesn't solve the issue, we can also remotely access your computer system or an individual computer to help solve any problems you may be experiencing. And if you need additional support, we can send a team member to your facility during regular business hours.
Trinity Solutions is your dedicated IT provider today and every day—no matter where you are.
Get IT Help Desk Support Now
Is your business looking to partner with a local IT support company? Trinity Solutions will learn the specific details about your business technology and office or manufacturing processes. We also have the experience to manage and advise you on your day-to-day technology challenges. Call us today and we'll set up an in-person meeting. We look forward to working with you!
Let's Talk! Call Trinity Solutions Now for Your FREE Consultation!